Merre tovább a vízszintszabályozás után? – Gazdaságfejlesztési lehetőségek a Szigetközben
Dávid Fekete

SZE Területi Tudományi és Vidékfejlesztési Tanszék, Győr

Petra Kinga Kézai

SZE Vezetéstudományi és Marketing Tanszék, Győr

Mihály Dömötör

SZE Regionális és Gazdaságtudományi Doktori Iskola, Győr
Kulcsszavak:
economic development, cross-border cooperation, tourism, Szigetköz, Danube, Hungary
Absztrakt
Szigetköz, as a unique natural formation, lives in the consciousness of many of us as a "wild water country", where the original, "ancient" natural environment inhabited by the Danube has been somewhat preserved for today's generations. Every year, many people visit Szigetköz, especially those who are interested in water sports or hiking, therefore, due to its uniqueness, it is also one of the defining areas of Hungary in terms of tourism. However, from the middle of the 19th century, this unique natural environment became increasingly degraded, mainly due to exaggerated river and water level regulation works. The "grace bump" was a drastic drop in water levels due to the partial construction of the Bős-Nagymaros Dam in the late 1980s, initiated by the Czechoslovak side, which required gradual interventions over the past 15 years. This process also reflects the fact that Szigetköz is not only our unique natural heritage, but also our peripheral border region since 1920, where the border line to Slovakia is represented by the drift line of the Old Danube. The state of its water system and thus its socio - economic conditions are strongly determined by the borderlessness and the resulting Hungarian - Slovak co - operations or divisions. Today, perhaps - thanks to the policy of the European Union - the co - operations are the ones that define the Hungarian - Slovak border relations, one of the locations and at the same time a suitable place of study is the Szigetköz - Csallóköz sister island pair.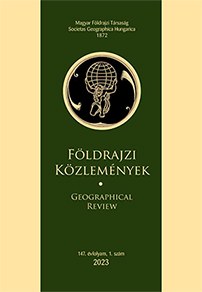 Copyright (c) 2023 Dávid Fekete, Petra Kinga Kézai, Mihály Dömötör
This work is licensed under a Creative Commons Attribution-NonCommercial-NoDerivatives 4.0 International License.