Estradiol and testosterone hormones as a method for sex determination of Siberian sturgeon (Acipenser baerii) from Zhrebchevo Dam Lake, Bulgaria
Alexander ATANASOFF

Trakia University, Faculty of Veterinary Medicine, 6014 Stara Zagora, Bulgaria

Anton RUSENOV

Trakia University, Faculty of Veterinary Medicine, 6014 Stara Zagora, Bulgaria

Dimitrinka ZAPRYANOVA

Trakia University, Faculty of Veterinary Medicine, 6014 Stara Zagora, Bulgaria

Lazarin LAZAROV

Trakia University, Faculty of Veterinary Medicine, 6014 Stara Zagora, Bulgaria

Cigdem URKU

Istanbul University, Faculty of Aquatic Science, 34134 Istanbul, Türkiye

Galin NIKOLOV

Trakia University, Faculty of Agriculture, 6014 Stara Zagora, Bulgaria
Keywords:
determination of gender, 17β-estradiol, sturgeon, testosterone
Abstract
Determination of the gender in sturgeon is very important in fish farmers, as sex is one of the main factors that determine aim of cultivating them. One of the method for maturation monitoring of sturgeons is steroid hormone analysis. On this base the current study used estradiol and testosterone hormones to determine the gender of 2-3-year-old Siberian sturgeon (Acipenser baerii) cultivated in sturgeon broodstock farm located in the Zhrebchevo Dam lake, Bulgaria. The serum concentrations of circulating reproductive hormones found in the both sex were similar to the hormonal profiles in previously reports. The results were confirmed also by histological examination, which showed pre-vitellogenic stage (Stage I) in female and maturity (Stage V) at the male individuals. The findings indicate the force of current steroid hormones as a method for sex determination. In conclusion, analysis of circulating reproductive hormones may be a useful method in early determining the sex of Siberian sturgeon.
References
ABBASI, N. – NOORI, A. – TOLOUIE GUILANI, M.H. – KALVANI-NEITALI, B. (2016): The study of seasonal steroid hormones in male Siberian sturgeon (Acipenser baerii) for determining gonadal development stages. J Microbiol Biotech Food Sci. 6(2): 764-766. https://doi.org/10.15414/jmbfs.2016.6.2.764-766
ALLEN, T. (1992): Hematoxylin and eosin. In: PROPHET, E. – MILLS, B. – ARRINGTON, J. – SOHIN, L. (eds) Armed forces institute of pathology laboratory methods in histotechnology. American Registry of Pathology, Washington, DC: 53-58.
EUMOFA (2023): Sturgeon meat and other by-products of caviar. Publications Office of the European Union, Brussels, Belgium: 1-27.
FALAHATKAR, B. – TOLOUEI, M. – FALAHATKAR, S. – ABBASALIZADEH, A. (2011). Laparoscopy, a minimally-invasive technique for sex identification in cultured great sturgeon (Huso huso). Aquaculture 321: 273-279. https://doi.org/10.1016/j.aquaculture.2011.08.030
FALAHATKAR, B. (2015): Endocrine changes during the previtellogenic stage of the great sturgeon (Huso huso Linnaeus, 1758). J. Appl. Ichth yol. 31: 830-838. https://doi.org/10.1111/jai.12813
HOSSEINZADEH, M. – IMANPOOR, M.R. – SHABANI, A. – NEKOUBIN, H. (2013): Seasonal changes in serum calcium and 17β-estradiol levels in Persian sturgeon (Acipenser persicus). J Aquac Res Development 4: 159. https://doi.org/10.4172/2155-9546.1000159
JAHRL, J. (2013): Illegal caviar trade in Bulgaria and Romania - Results of a market survey on trade in caviar from sturgeons (Acipenseridae). WWF Austria and TRAFFIC, Vienna, Austria: 1-54.
MOBERG, G. – WATSON, J. – DOROSHOV, S. - PAPKOFF, H. - PAVLICK, Jr. R. (1995): Evidence for two sturgeon gonadotropins in Acipenser transmontanus. Aquaculture 135:17-39.
MOSYAGINA, M.V. – ZELENNIKOV, O.V. (2016): State of steroid secretory cells and concentration of gonadal steroid hormones in the blood plasma of Siberian sturgeon (Acipenser baerii) and sterlet (Acipenser ruthenus) during sex differentiation. J. Ichth yol. 56: 141-146. https://doi.org/10.1134/S0032945215060107
MUNHOFEN, J.L. - JIMÉNEZ, D.A. – PETERSON, D.L. – CAMUS, A.C. – DIVERS, S.J. (2014): Comparing ultrasonography and endoscopy for early gender identification of juvenile Siberian sturgeon. North American Journal of Aquaculture 76(1): 14-23. https://doi.org/10.1080/15222055.2013.826765
NIKOLOVA, L. – GEORGIEV, G. – BONEV, S. (2018): Morpho-physiological characteristics of Russian sturgeon reared in net cages. Bulgarian Journal of Agricultural Science 24(5): 865-870.
PARK, C. – GONG, S.P. – CHOI, Y.H. – KIM, K.H. – NAM, Y.K. (2020): Early gonadal maturation and vitellogenin mRNA expression in Siberian sturgeon (Acipenser baerii) cultured in a semi-closed water recirculating system in Korea. Journal of Animal Reproduction and Biotechnology 35: 279-288. https://doi.org/10.12750/JARB.35.3.279
PELISSERO, C. – CUISSET, B. – Le MENN, F. (1989): The influence of sex steroids in commercial fish meals and fish diets on plasma concentration of estrogens and vitellogenin in cultured Siberian sturgeon. Aquat. Living Resour. 2 (3): 161-168.
RUSENOV, A. – URKU, C. – ATANASOFF, A. – ZAPRYANOVA, D. – NIKOLOV, G. SPASOV, D. (2019). Early determination of gender in Siberian sturgeon (Acipenser baerii) using ultrasound and biopsy techniques. Danub. Anim. Genet. Resour. 4: 102.
WEBB, M.A.H. – FEIST, G.W. – FOSTER, E.P. – SCHRECK, C.B. – FITZPATRICK, M.S. (2002): Potential classification of sex and stage of gonadal maturity of wild white sturgeon using blood plasma indicators. Trans Am Fish Soc 131: 132-142. https://doi.org/10.1577/1548-8659(2002)131<0132:PCOSAS>2.0.CO;2
WHEELER, C. – ASHLEIGH, J.N. – GAIL, S.W. – JAMES, A.S. (2016): Using circulating reproductive hormones for sex determination of Atlantic sturgeon (Acipenser oxyrinchus oxyrinchus) in the Saco River estuary, Maine, Conserv Physiol 4(1): cow059. https://doi.org/10.1093/conphys/cow059
WILDHABER, M.L. – PAPOULIAS, D.M. – DELONAY, A.J. – TILLITT, D.E. – BRYAN, J.L. – ANNIS, M.L. (2007): Physical and hormonal examination of Missouri Rivers hovel nose sturgeon reproductive stage: a reference guide. Journal of Applied Ichthyology 23(4): 382-401. http://dx.doi.org/10.1111/j.1439-0426.2007.00878.x
YOUNESZADEH-FASHALAMIA, M. - SALATIA, A.P. – KEYVANSHOKOOHA, S. (2018): Comparison of proteomic profiles in the ovary of Sterlet sturgeon (Acipenser ruthenus) during vitellogenic stages. Comparative Biochemistry and Physiology, Part D 27: 23-29. https://doi.org/10.1016/j.cbd.2018.04.006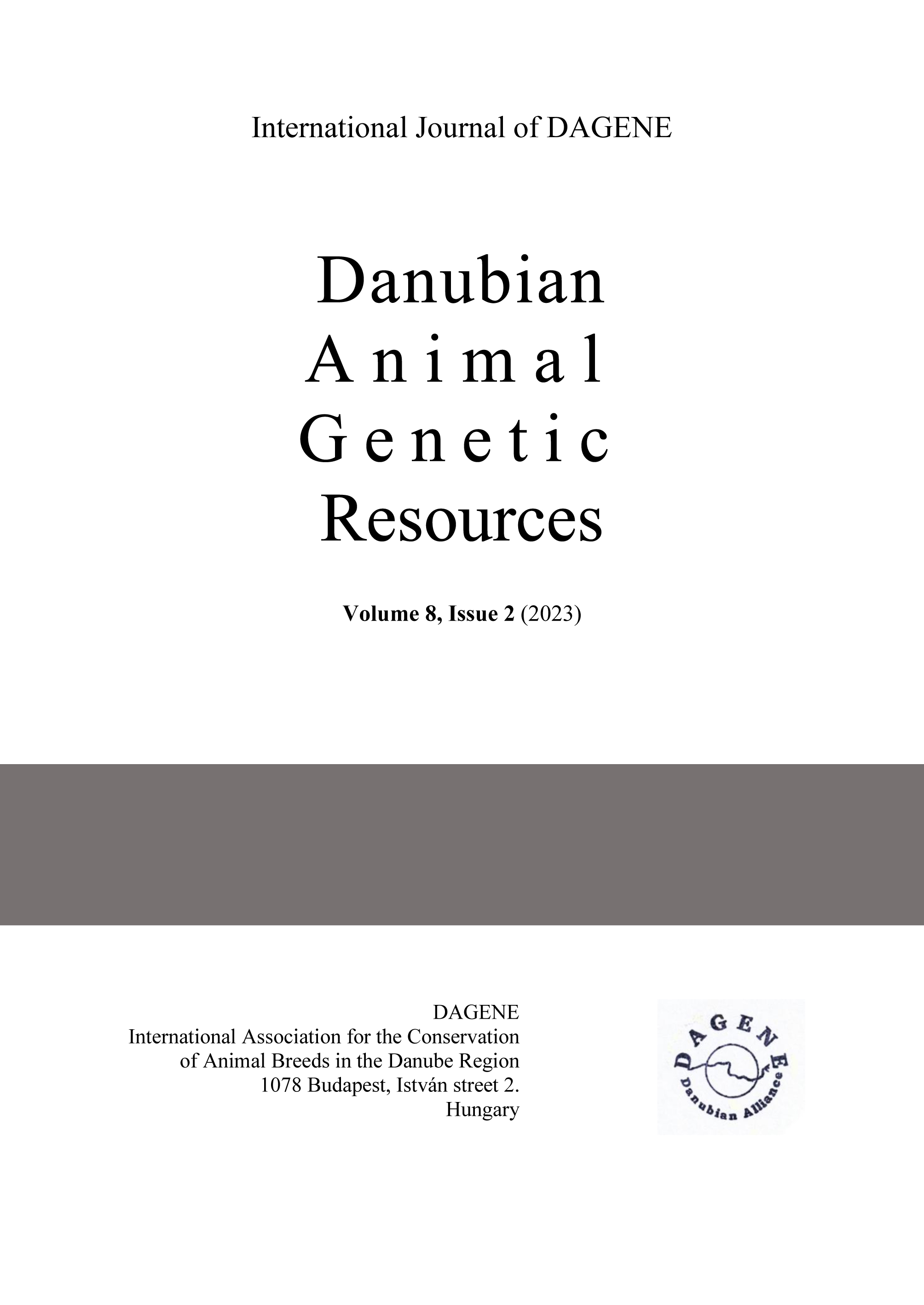 Section
Scientific papers