Patnaik, S. (ed.): New Paradigm of Industry 4.0: Internet of Things, Big Data & Cyber Physical Systems
References
Albrecht, C.M., Elmegreen, B., Gunawan, O., Hamann, H.F., Klein, L.J., Lu, S., Mariano, F., Siebenschuh, C. and Schmude, J. 2020. Nextgeneration geospatial-temporal information technologies for disaster management. IBM Journal of Research and Development 64. (1-2): 1-12.
Azaz, L. 2011. The use of geographic information systems (GIS) in business. A paper for International Conference on Humanities, Geography and Economics. Pattaya, Thailand, ICHGE'2011. 299-303.
De Perez, E.C., Monasso, F., Van Aalst, M. and Suarez, P. 2014. Science to prevent disasters. Nature Geoscience 7. (2): 78-79. https://doi.org/10.1038/ngeo2081
Flesch, R. 2007. European Manual for In-Situ Assessment of Important Existing Structures. LESSLOSS Report No. 2007/02. Pavia, Italy, Istituto Universitario di Studi Superiori.
He, L. and Yue, P. 2019. A cloud-enabled geospatial Big Data platform for disaster information services. Paper for Geoscience and Remote Sensing (IGARSS), IEEE International Symposium 2019. Yokohama, Japan. https://doi.org/10.1109/IGARSS.2019.8898893
Klein, L.J., Marianno, F.J., Albrecht, C.M., Freitag, M., Lu, S., Hinds, N. and Hamann, H.F. 2015. PAIRS: A scalable geo-spatial data analytics platform. Paper for the IEEE International Conference on Big Data, 2015. Santa Clara, USA. https://doi.org/10.1109/BigData.2015.7363884
Snow, J. 1991. On the mode of communication of cholera, 1855. Salud Publica de Mexico 33. (2): 194-201.
Thomas, D.S.K. 2018. The role of geographic information science & technology in disaster management. In Handbook of Disaster Research. Eds.: Rodríguez, H., Donner, W. and Trainer, J.E., Cham, Springer. https://doi.org/10.1007/978-3-319-63254-4_16
Wang, Z., Lai, C., Chen, X., Yang, B., Zhao, S. and Bai, X. 2015. Flood hazard risk assessment model based on random forest. Journal of Hydrology 527. 1130-1141. https://doi.org/10.1016/j.jhydrol.2015.06.008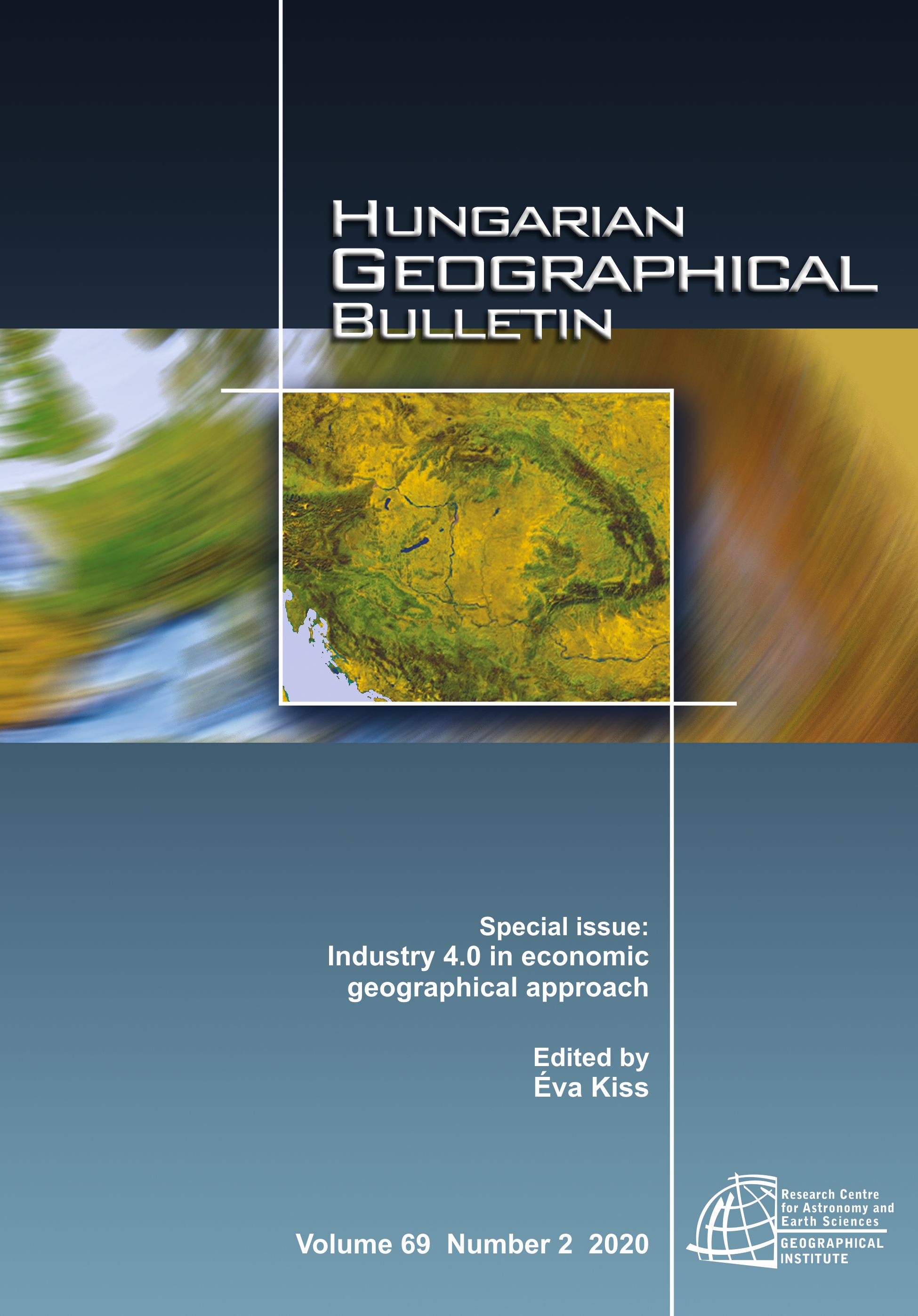 How to Cite
AlhloulA. (2020). Patnaik, S. (ed.): New Paradigm of Industry 4.0: Internet of Things, Big Data & Cyber Physical Systems. Hungarian Geographical Bulletin, 69(2), 209-212. https://doi.org/10.15201/hungeobull.69.2.8
Section
Book review section
Copyright (c) 2020 Abdelkarim Alhloul
This work is licensed under a Creative Commons Attribution-NonCommercial-NoDerivatives 4.0 International License.